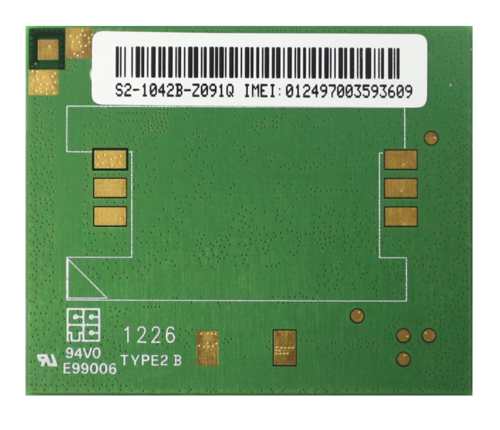 SIM900B GSM Module
Product Code : OMP-G002
Price And Quantity
Minimum Order Quantity

:

10
Unit of Measure

:

Piece/Pieces
Product Description
This is a compact and reliable wireless module and this module compatible with the module-SIM300/340 and SIM340E. This is a complete Quad-band GSM/GPRS module in a B2B type and designed with a very powerful single-chip processor integrating AMR926EJ-S core, allowing you to benefit from small dimensions and cost-effective solutions. Highlighting an industry-standard interface, the SIM900B provides GSM/GPRS 850/900/1800/1900MHz performance for voice, SMS, Data, and Fax in a small form factor and with low power consumption.

Quad-Band 850/ 900/ 1800/ 1900 MHz

GPRS multi-slot class 10/8

GPRS mobile station class B

Compliant to GSM phase 2/2+

Class 4 (2 W @850/ 900 MHz)

Class 1 (1 W @ 1800/1900MHz)

Dimensions: 40X33X3 mm

Weight: 7g

Control via AT commands (GSM 07.07, 07.05 and SIMCOM enhanced AT Commands)

SIM application toolkit

Supply voltage range: 3.1 ... 4.8V

Low power consumption: 1.5mA (sleep mode)

Operation temperature: -40 °C to +85 °C

Group 3, class 1

SPECIFICATIONS FOR SMS VIA GSM/GPRS

SMS cell broadcast

Text and PDU mode

Point to point MO and MT

0710 MUX protocol

FTP/HTTP

Embedded TCP/UDP protocol

SPECIFICATIONS FOR VOICE

Tricodec

Half rate (HR)

Full rate (FR)

Enhanced Full rate (EFR)

Hands-free operation

(Echo suppression)

AMR

Half rate (HR)

Full rate (FR)

INTERFACES

GPIO

PWM

ADC

RTC backup

SPI interface

Serial interface

SIM Card

SIM holder

Embedded SIM

Keypad

Antenna connector

Two analog audio interfaces
Interface to external SIM 3V/ 1.8V.
This is a compact and reliable wireless module and this module compatible with the module-SIM300/340 and SIM340E. This is a complete Quad-band GSM/GPRS module in a B2B type and designed with a very powerful single-chip processor integrating AMR926EJ-S core, allowing you to benefit from small dimensions and cost-effective solutions. Highlighting an industry-standard interface, the SIM900B provides GSM/GPRS 850/900/1800/1900MHz performance for voice, SMS, Data, and Fax in a small form factor and with low power consumption.

Quad-Band 850/ 900/ 1800/ 1900 MHz

GPRS multi-slot class 10/8

GPRS mobile station class B

Compliant to GSM phase 2/2+

Class 4 (2 W @850/ 900 MHz)

Class 1 (1 W @ 1800/1900MHz)

Dimensions: 40X33X3 mm

Weight: 7g

Control via AT commands (GSM 07.07, 07.05 and SIMCOM enhanced AT Commands)

SIM application toolkit

Supply voltage range: 3.1 ... 4.8V

Low power consumption: 1.5mA (sleep mode)

Operation temperature: -40 °C to +85 °C

Group 3, class 1

SPECIFICATIONS FOR SMS VIA GSM/GPRS

SMS cell broadcast

Text and PDU mode

Point to point MO and MT

0710 MUX protocol

FTP/HTTP

Embedded TCP/UDP protocol

SPECIFICATIONS FOR VOICE

Tricodec

Half rate (HR)

Full rate (FR)

Enhanced Full rate (EFR)

Hands-free operation

(Echo suppression)

AMR

Half rate (HR)

Full rate (FR)

INTERFACES

GPIO

PWM

ADC

RTC backup

SPI interface

Serial interface

SIM Card

SIM holder

Embedded SIM

Keypad

Antenna connector

Two analog audio interfaces
Interface to external SIM 3V/ 1.8V.
Contact Us
Office No:-23, 1st Floor, Sarvoday Mall, Near Patri Pull, Kalyan(West), Dist.Thane, Kalyan, Maharashtra, 421301, India